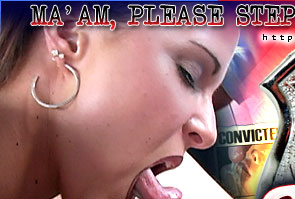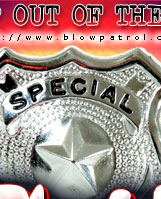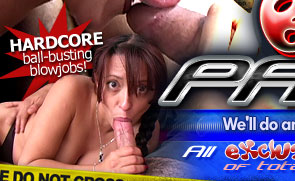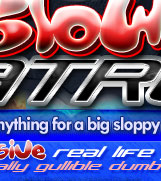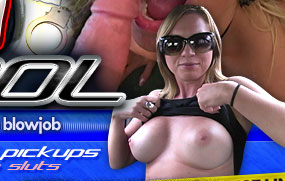 Flip through our pages of exclusive BlowPatrol blowjob tales!
Real erotic stories of two dudes pretending to be cops
It's amazing how many dumb unsuspecting girls their are out there. Sometimes even we can't believe that they fall for our cheesy stories. We convince these broads that they've commited a crime and the only way out of it is if they suck our cocks.
Blond whore Victoria White runs in to a spot of bother when she gets picked up by vice cop Bruce Venture. Bruce blatantly entraps her, calling her up and getting her over for some service. When he flashes his badge, Victoria is horrified - but she soon agrees to give the crooked cop a blowjob. She looks fucking delicious in her slutty fishnet stockings and panties, and she sucks the dick real good; it's got to be quite a feeling watching those beautiful blue eyes staring up in to your own as you get a hardcore blow job! Victoria sucks the dick with no condom and it explodes right in her mouth, leaving her face splattered with sperm.

Join right now!
We found Daisy walking on a nearby sidewalk. We offered to give her a ride, which she gladly took. Once we had her in the car, Daisy became more and more interested in our film project. Even though we tried to set her up, she seemed unconcerned with the charge. In fact, I would say she laughed it off as if it were no big deal and continued to show more interest. As you can see, it really didn't take too long to convince to get her to start sucking some dick... and boy did she suck some dick!

Join right now!
This chick was speeding all through a residential area. Although we kept trying to pull her over, she seemed completely oblivious to anything else except herself. Finally, she makes a crazy maneuver and pulls over. As we approached her, she was completely unaware of anything that she did wrong. I had Bill go back to the car and pretend to run her personal information. So, of course, Bill comes back with a fake warrant and we make her get out of the car and into ours. We lied and told her that we would get a tow for her car. While in our car, she asked how she could get out of this, as she was on her way to an appointment. Naturally, we had a way out, and she seemed quite willing to participate. Well, let me tell you, Brianna was great. She could really suck some serious cock and as Bill later mentioned, defenitely one of our best so far. So, don't miss Brianna in all of her cum-faced glory.

Join right now!
It didn't take much of a scam to get this babe to perform a little cock stroking and dick licking action on camera. This pretty little tourist accepted a ride from us to the beach but then after some sweet talk she admitted that she'd always wanted to be with a cop - so as you can imagine it didn't take much to convince her to accept some company in the back seat with her. Minutes after we picked her up she was topless and had a big hard dick sticking out of her mouth while her fingers worked the shaft like a fucking pornstar. In fact, she was so good that we decided not to be assholes and after unloading all over her tiny little titties we even drove her to the beach like we said we would!

Join right now!
We were having a hard time finding someone to pull over and suck our cocks. When we saw this car we decided 'fuck it' we don't care what she looks like - if she's a fucking mutt we can just make a blooper film. Pulling her out of the care we pretended to frisk her, but really we were just feeling up her super tight body - because it was tight. This babe was about as far away from a mutt as you can get - she was smoking hot and knew exactly how to use her hands and lips together to make us spoo - all over her sex tits. Of course, once we were done with her we didn't give her a ticket, but we didn't take her back to her car either!

Join right now!
Flip through our pages of exclusive BlowPatrol blowjob tales!