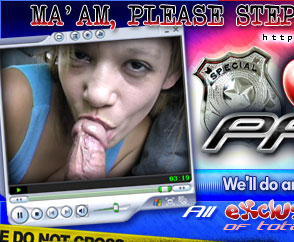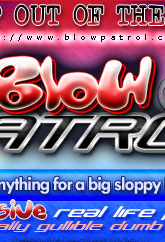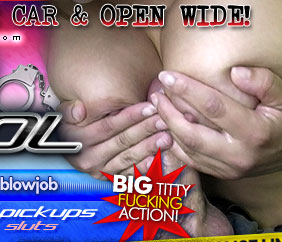 Flip through our pages of exclusive BlowPatrol blowjob tales!
We thought it would be fun to try something different this time, so we rented ourselves a hotel room. Bill got on the phone and started calling some escorts. We knew we could find someone to come over that we could mess with. We made sure to bring some fun props with us, to make it look a little more real. On our second call we found a girl that would come over. So, we set up and waited. When she arrived, I was hiding with the camera. She never saw me as she came in. As soon as Bill mentioned a deal for money, I came out running out and we put her to the wall. Lani was her name and she wasn't too thrilled to have been busted for being an escort. Poor Lani had no choice, but to participate in our videos. It was obviously her best option. So as Lani prepared to suck some cock, we made sure that she would be doing it for quite a while. After all, she was going to do it anyways.

Join right now!
This cute Georgia peach tossed a piece of paper on the ground as we were driving by - lucky for us! We talked to her, telling her that she could even go to jail for littering here in Florida - or she could suck our cock on camera and we'd consider letting her go. Damn was she pissed, and so as you can imagine, we took a great deal of pleasure out of stuffing her pretty little mouth full of cock. Don't let her kid you, she was angry, but once she felt that throbbing trouser snake between her lips she got into it too. After we poured a load down her throat she claimed she was still pissed off - but she wasn't half as pissed as she was when we dropped her off in a different parking lot than the one we picked her up in!

Join right now!
Sometimes we just don't find anything and we have to look for a reason to go after a girl. So, as we pulled into the marina, we noticed this little cutie walking home from the beach. Just as we saw her, she threw out her bottle of water into the grass. Perfect! We now had a reason to approach her. I just couldn't believe this bitch gave us such a hard time. However, that just made it much more fun. It took Ashley a little while to calm down, but once she did, she really got into it. Afterwards we felt kind of bad for what we put her threw, JUST KIDDING! It made a great film.

Join right now!
We were driving around looking for a slut to suck our cocks when we spotted this long haired hottie. We pulled her over and stuck her in the back seat of our car. Luckily it didn't take much talking before she was ready and willing to receive a giant load across her nose! She gags on this monster dick and then after we coated her in cum and dropped her off in the middle of nowhere! Another great blowjob in the books!

Join right now!
We threatened this brunette slut with over three hundred dollars in tickets - which was, apparently way out of her budget because it only took about ten seconds from the time we offered her the chance to suck our cocks to get out of having to pay it until the time she accepted. Unfortunately she was in a hurry to get back to work and kept asking 'how much longer' instead of just doing her job and sucking us off. It's all good though - by the end we had her broken in and she was able to figure out what her mouth really ought to be used for, and I don't mean talking! After we came all over her great little titties, we tricked her into getting out of our car and then bailed, leaving her ass stranded miles away from her car in the middle of no where!

Join right now!