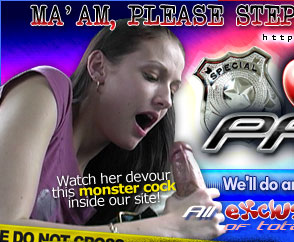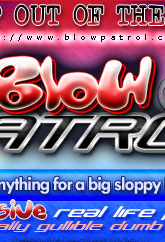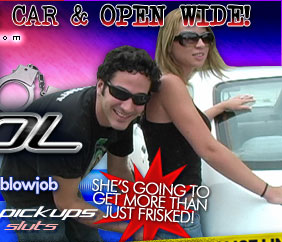 Flip through our pages of exclusive BlowPatrol blowjob tales!
After our car got smashed up we had to resort to scamming sluts in a hotel room instead of in the car while we wait for it to get fixed. Fortunately it takes more than that to put a crimp in our game. We hired a stripper and even though she was late with her tight body and gorgeous face she was worth the wait. We asked her how much she'd charge to suck cock or put out and then told her we were undercover cops and that she was busted - of course, we offered her the option of sucking our cock rather than going to jail. Like a real champ she sucked up the 'unfairness' of the situation and got down on her knees to put a little slobber on the knobber while the camera rolled. After we dumped a load all over her sweet little face we shoved her out into the hall - all jizzed up and half naked. Oh yeah!

Join right now!
We found this cute looking chick waiting at the corner for another customer. We thought it would be fun to try and catch her in the act. So, we waited patiently, until finally, a small white car approached. As soon as we saw her go towards the car, we sprung into action. The funny part was the little white car... whoever that was, took off in a big hurry. So, we asked Natasha to join us in the car. At first she claimed that the guy in the car was a friend of hers, but she knew that we wouldn't buy it. So she confessed and with that, we offered her a chance to be in our film. Of course, this ones was a freebee for her. Natasha got really excited about that and took on our offer. All we can say is that Natasha was truly a proffessional... A PROFFESSINAL WHORE!!!

Join right now!
There were slim pickings the day we filmed this tape, lemme tell you. At first we thought we were going to have to pick up some granny or a couple fat chicks, then we spotted this ravishing redhead wilting under the heat while she waited for the bus. We offered her a ride and then told her if she didn't suck my cock I wouldn't take her home - she didn't even have to think about it, this girl is such a freak she was totally into sucking cock instead of waiting outside in the heat. We put her to work in the backseat and then after dumping a big load of hot cum all over her tits and tummy tricked her into getting out of the car so we could make our trademarked getaway.

Join right now!
As we were driving aroung the college, we drove right by a hitch-hiker. She looked reaaly cute, so we turned around the car and approached her. Gladly, we offered her a ride and she accepted. Once in the car, we tried to ask her about the hitch-hiking, before finally enlightening her to who we actually were. Alicia seemed pretty content to join our little film experiment and become another blow patrol victim. Boy, those college girls can really suck. Wait till you see this girl go at it.

Join right now!
We hired a hot little stripper to come to our hotel room. The plan was to try and trick her into offering up sex, but she made it way too fucking easy on us - we didn't have to trick her, she fucking offered almost as soon as she was inside the door. Then, when we told her we were cops she wasn't even surprised and didn't even offer any resistance when it came to putting out to get out of going to jail - she just wanted to go home. She worked this cock like a real pro (no doubt because she is one) and then took a massive load on her tongue and swallowed it up in seconds. This dark haired mink sucks a great cock and I'm hoping we can find a way into her pants again in the very near future.

Join right now!