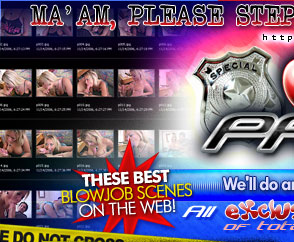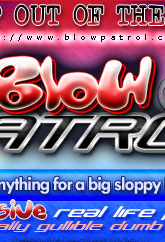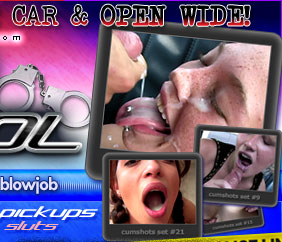 Flip through our pages of exclusive BlowPatrol blowjob tales!
You guys are in for a treat, this chick was a total bitch! Of course like every other day we never really have a legit reason for stopping these girls, so with Jillian we made up some shit about walking on the side of the road that has no sidewalk. Being the natural bitch Jillian is she hesitated a little but then gave in. But even then she had an atitude threw out the whole shit, so Bill and I teased the hell out her.

Join right now!
Another dull day of driving. We had some bad luck earlier and were just about to head back out to the beaches when we came across Destiny. She was pulled over, leaned over the open hood of her car. This was one hot girl . I think that when we approached her, we didn't even have a reason to stop, but as we got closer, we noticed that she was still parked on part of the street. Destiny could not understand why her parking was a problem, but she was not being too reasonable, so Bill asked her to come sit in the car with us. It's funny how a girl can change so quick, but Destiny became a whole different person when that camera kicked on . Who knew she could be such a little porn star. You won't want to miss this film... Trust Us!

Join right now!
This one was really funny. As we were driving down the beach, I thought I saw a couple fighting in a nearby car. As we took another look, it did appear that they were having some kind of dissagreement. So, we quickly followed them and got them to pull over. When we approached their vehicle, we noticed that they were Tourists. They claimed that they were from Spain and they left their passports at the hotel. Since it looked like they were fighting, we seperated them and, of course, took the girl with us. Once we got her in the car, this little foreigner quickly turned into a little sex freak. It was great... here she is giving a bliowjob while her boyfriend or husband waits in the other car. Since her guy waited the whole time, we decided to send her back with a little present. .. just for fun.

Join right now!
This blond hottie wasn't speeding or giving us any reason to pull her over, so we just said fuck it and turned on the lights anyway. We told her she'd run a stop sign, but of course, it was only in our imagination. Worried about her cop-brother finding out she'd gotten another ticket this dirty slut was ready and willing to suck our cocks in order to get out of it and goddamn did she have skills! The way she wrapped her lips around our cocks and milked our balls of every drop of jizz made this one of the star movies in our ever expanding library of cock sucking. In the end, with a massive load of jizz splattered all over her face and dripping down her chin she admitted that she really loved sucking us off - so now we may need to follow her home for round number two!

Join right now!